DURATION: 15 days
BUDGET: S$6k for two, budget with some food splurges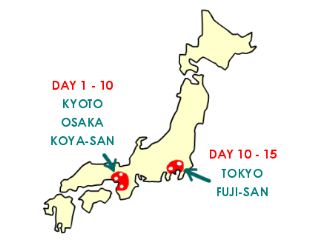 Japan for Food & Culture Lovers
by RevePlanner
Land of the vending machines, Japan appeals with its distinct uniqueness. Where else can one glimpse a geisha, visit a "township" devoted to anime or pay good money to sleep in capsule pods?
Oh, how about watching a sumo match? And the onsen (hotspring) experience is just blissful on a chilly day…ahhh

KANSAI REGION
Osaka is Japan's second largest city and an important economic power. Here, people greet each other moukarimakka which means "made any money?" instead of "hello!". This bustling city is the base for our trips around this part of Japan.
Famous attractions include the Osaka Castle, ShinsaiBashi shopping arcade and Dotombori nightlife. Any food lover must try the many, many streetfoods. Did you know that takoyaki (octopus snackball) originated from this city? Also try okonomiyaki (omelette pizza), yakitori (skewered grills), sugar-coated sweet potato and the various french fusion desserts.
In spring, hanami (cherry blossom viewing picnics) are enjoyed by the locals in the city parks. This is also when Osaka plays host to the yearly Sumo tournament – a truly Japanese experience with loyal sumo fans.
Kyoto is every visitor's idea of Japan – traditional and beautiful. This ancient capital of Japan boasts hundreds of shrines, gardens and temples. Young ladies here are still seen in kimonos, some with a modern fashion twist.
Main attractions include Kiyomizu-dera, Kinkaku-ji, Heian-jingu and Ryoan-ji. Slightly south of the city is Fushimi-inari, a temple hill with pathways of red torii gates. Apart from these world-famous sights, this historical city also contains old shops specialising in kimonos, trinklets and even traditional sweets. Indulge in a japanese dessert and a cup of green tea.
In spring, take a walk along Philosopher Path or along any of the rivers that run through Kyoto. On certain nights, Gion is transformed into a golden dreamland when all the sakura (cherry blossom) trees are lighted up in rich yellow glow. This is when to keep an eye open for chance encounters with a geisha too.
For a daytrip, visit Arashiyama for its bamboo forest and the scenic trainride which hugs the cliffs above the Sagano river.
Koyasan mountain is part of a holy pilgrimage trail and a UNESCO Heritage Site. Over a hundred temples stand here and about 50 temples now offer lodgings. The shojin ryori (fine vegetarian cuisine) is usually prepared by the temple monks and included in the templestay. One temple even has a natural onsen (hot spring) which is perfect in cold weather.
KANTO REGION & Mount Fuji
Seishun Juhachi Kippu is a well-kept secret for cheap train travel. For budget travellers, this train pass allows five 24-hour local train rides without any geographical constraints. This is how we travelled from Osaka to Tokyo.
Tokyo is the a sprawling metropolitan city of concrete. However, if you know where to look and look close enough, Tokyo is one of a kind. Famous for the Akihabara anime culture and Harajuku teenage fashion, visitors experience the dynamic Japan. Today, maid cafe are the new rage (waitresses dressed in maid costumes serve food, chat, and even play games with clients)
On the other side of the spectrum, visit Ginza. Even if shopping is not for you, visit the food basements in the department stores along Ginza Street. See perfect vegetables & fruits (for example: tomatoes of the same size, same red colour, same shape! ) and cooked food packed in pretty boxes.
Auctions at the infamous Tsukiji fish markets starts early in the morning, and ends by 6am. Treat yourself for waking up with breakfast of the freshest sushi.
For something traditional, visit Meiji-jingu and the Imperial Palace grounds. If lucky, you may witness a japanese wedding ceremony. In spring, the Hana Matsuri festival is celebrated by children at Senso-ji.
Tokyoites enjoy sakura viewing in the city parks as much as anyone else. Alternatively, join the working class after office hours for dinner and drinking at an izakaya (japanese pub). Oh, did you try the fugu (blowfish) delicacy yet?
Fuji-san is a japanese icon. Best viewed from the surrounding lakes, Ashin-ko is the lake that is most easily accessed from Tokyo. It is magical to view Mount Fuji on board a ship. There, take the cable car to the volcanic vents at Owakudani. In spring, trails up the majestic mountain are still closed.
Atami is a tourist town for relaxing spa getaways from Tokyo.